Key Features and Values
REDUCED COMPLEXITY
Ease-of-analysis of the FMR1 gene has been simplified through:
Implementation of proprietary PCR solution for amplifying GC-rich regions
Automation of result calling using AmplideX PCR/CE FMR1 Reporter
OPTIMSED WORKFLOW
Valuable operator hands-on time has been significantly reduced through:
Direct injection of PCR products (no PCR clean up) in to Capillary Electrophoresis platforms
Decreased need for Southern blot analysis (up to 50 fold)
End-to-end solution for FMR1 analysis including all necessary reagents and software
QUALITY PERFORMANCE
Performing FMR1 Analysis with Greater Sensitivity and Accuracy:
Detection of all allele expansions, including low abundance full mutation size mosaics with up to at least 1300 CGG repeats
Up to 875 fold more sensitive than Southern blot
Resolution of female homozygous and heterozygous samples and indication of interrupting AGG sequences
Proven performance as indicated by more than 30 peer reviewed publications
Product Description
AmplideX PCR/CE FMR1 Kit is an in vitro diagnostic (IVD) device for use in clinical laboratories for detection of the CGG repeats in the fragile X mental retardation (FMR1) gene.
The device is intended to aid in the diagnosis of fragile X syndrome and fragile X associated disorders, e.g. tremor and ataxia syndrome (FX-TAS) and primary ovarian insufficiency (FXPOI), through determination of CGG repeat length up to 200 CGG and detection of alleles greater than 200 CGG.
The kit provides a PCR-only approach based on Triplet Repeat Primed PCR (TP-PCR) design to reliably amplify and detect all alleles including Full Mutations.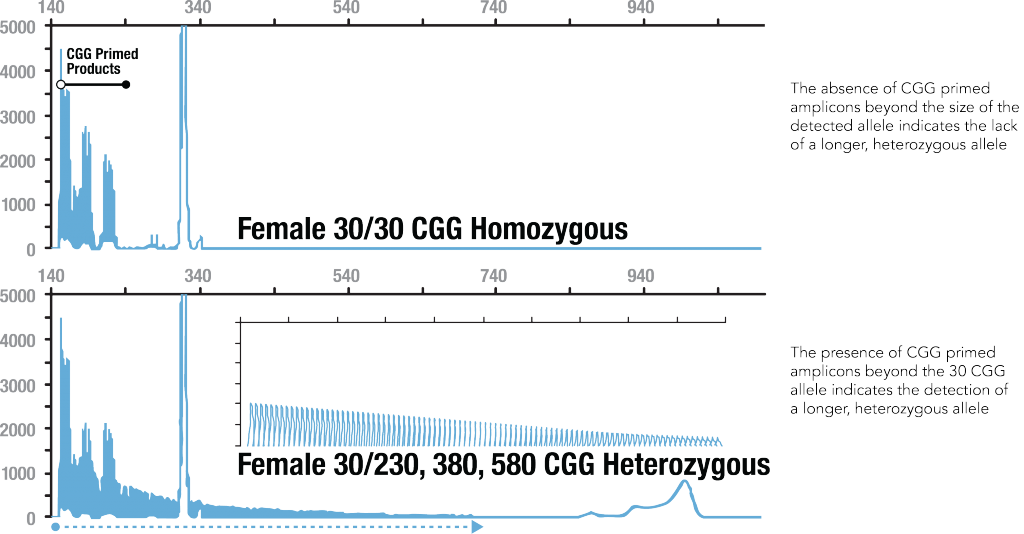 Scientific Description
Fragile X syndrome (FXS) is a trinucleotide repeat disease caused predominantly by the expansion of CGG sequences in the 5' untranslated region of the Fragile X Mental Retardation 1 (FMR1, NM_002024.4) gene. Expansion of this region to 200 or more repeats is associated with hypermethylation and resulting inactivation of the FMR1 gene. Lack of the gene product through hypermethylation results in loss of FMRP, an RNA-binding protein that acts as a global regulator of translation in neurons and is important for synaptic plasticity. Because of its key role in neural development and RNA transport, loss of this protein is linked to the fragile X syndrome phenotype, which is characterised by mental retardation, autism, and emotional and psychiatric challenges.
The general prevalence of Fragile X Syndrome is ~ 1 in 4,000 in males and ~ 1 in 5,000-8,000 in females. 
Premutation alleles are linked to fragile X-associated primary ovarian insufficiency (FXPOI) a leading cause of ovarian dysfunction in women, and fragile X-associated tremor and ataxia syndrome (FXTAS). FXTAS, which affects more males than females, is a late-onset disorder characterised by progressive cognitive and behavioral difficulties and intention tremors and ataxia. These premutation disorders are characterised by an increase in mRNA transcription but lower protein levels.
Publications
Nolin SL et al.
Fragile X full mutation expansions are inhibited by one or more AGG interruptions in premutation carriers.
Genet Med 2015 May;17(5):358-64.
Yrigollen CM et al.
Transmission of an FMR1permutation allele in a large family identified through newborn screening: the role of AGG interruptions.
J Hum Genet 2013; 1-7.
Nolin SL et al.
Fragile X AGG analysis provides new risk predictions for 45-69 repeat alleles.
Am J Med Genet 2013; 161(4):771-8.
Yrigollen CM et al.
AGG interruptions within the maternal FMR1gene reduce the risk of offspring with fragile X syndrome.
Genet Med 2012; 14(8):729-36.
Finucane B et al.
Genetic counseling and testing for FMR1gene mutations: Practice guidelines of the National Society of Genetic Counselors.
J Genet Counsel 2012; 21(6):752-60.
Saul RA and Tarleton JC.
FMR1-Related Disorders. In: Pagon RA, Bird TD, Dolan CR, Stephens K, Adam MP, editors.
GeneReviews™[Internet]. Seattle (WA): University of Washington, Seattle; 1993-1998 June 16 [updated 2012 Apr 26].
Nolin SL et al.
Fragile X analysis of 1112 prenatal samples from 1991 to 2010.
Prenat Diagn 2011; 31(10):925-31.
American College of Obstetricians and Gynecologists Committeee on Genetics.
Carrier screening for fragile X syndrome.
Obstet Gyn 2010; 116(4):1008-10.
Chen L et al.
An information-rich CGG repeat primed PCR that detects the full range of fragile X expanded alleles and minimizes the need for southern blot analysis.
J Mol Diag 2010; 12(5): 589-600.
Filipovic-Sadic S et al.
A Novel FMR1PCR method for the routine detection of low abundance expanded alleles and full mutations in Fragile X Syndrome.
Clin Chem 2010; 56(3): 399-408.
Rodriguez-Revenga L et al.
Penetrance of FMR1premutation associated pathologies in fragile X syndrome families.
Eur J Hum Genet 2009; 17(10):1359-62.
Fernandez-Carvajal I et al.
Expansion of an FMR1grey-zone allele to a full mutation in two generations.
Mol Diagn 2009; 11(4):306-10.
McConkie-Rosell A et al.
Genetic counseling for fragile X syndrome: updated recommendations of the national society of genetic counselors.
J Genet Couns 2005; 14(4):249-70.
Nolin SL et al.
Expansion of the fragile X CGG repeat in females with premutation or intermediate alleles.
Am J Hum Genet 2003; 72(2):454-64.
Crawford DC et al.
FMR1and the fragile X syndrome: human genome epidemiology review.
Genet Med 2001; 3(5):359-71.
Sherman SL.
Premature ovarian failure in the fragile X syndrome.
Am J Med Gen 2000; 97(3):189-94.
Zhong N et al.
Fragile X "gray zone" alleles: AGG patterns, expansion risks, and associated haplotypes.
Am J Med Genet 1996; 64(2):261-5.
Nolin SL et al.
Familial transmission of the FMR1CGG repeat.
Am J Hum Genet 1996; 59(6):1252-61.
Eichler EE et al.
Length of uninterrupted CGG repeats determines instability in the FMR1
Nat Genet 1994; 8(1):88-94.
Kunst CB et al.
Cryptic and polar variation of the fragile X repeat could result in predisposing normal alleles.
Cell 1994; 77(6):853-61
Download
Please enter your email address to download